A LITTLE PRESENT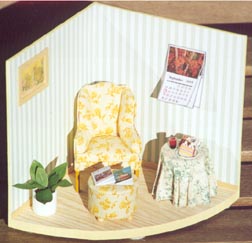 On the 12th of September 1999 my email-friend

Liesbeth and I met for the first time after a e-mailfriendship of 2,5 years. I wanted to make her something, so I made this little scene. Everything in this scene is made by me. The calendar with the date September the 12th highlighted is downloaded from the site of Jim Collins. I scanned three dolls house books and on the chair lies a letter to Liesbeth (not in picture). The chair is a chair from the Del Prado publication.

The 12th of September was a very special day, it was the first ENPEG-day (first dutch dollshouse email group -day) and many email-friends met for the first time. It was a great day and I hope it will happen again next year!