MAY 1999 SWAP
This month, the theme was pets.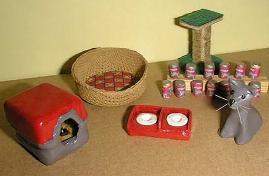 Above is a picture of the things I got from my swap partner, Els G.
She made me a cat, lots of tins of cat-food, a dickey, a basket for the cat, a pole to sharpen her nails on and some plates.
Here you see the swap I made for Els.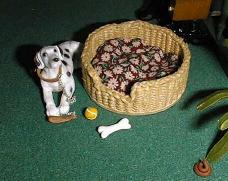 For her Dalmatian I made a basket to sleep in, a tennis ball to play with, a bone to chew on, a leash to walk the dog, a rug in his basket and a little turd.