MAY 2000
A lot of members of the Mini-Praathoek have the same dolls house, so the swap-organiser thought it would be a nice idea to take every month a different room of the house as the theme of the swap.
In May the theme of The-Mini-Praathoek swap was "roof terrace"
I made for Ria two dekchairs, a hanging flowerpot with a plant and because she makes her house a candystore, I also made a paper bag with lollypops.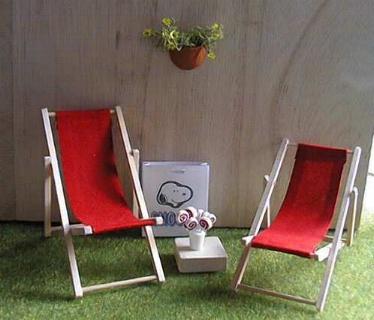 Monique made for me three beautiful plants and for 1:12 Jasper en Jasmijn she made a bag of candy (not in picture!).