MORE PRESENTS
This beautiful plate was a gift from Anja van den Doel.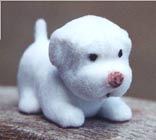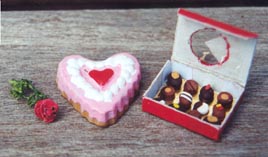 The 24th of february Liesbeth and I were e-mail-friends for 3 years! She send me this cute little dog , the rose, the box with chocolates and the cake.

On the dollshouse fair in Arnhem, 25 March 2000, my mother and mother-in-law gave me these beautiful pots. They're made by Elisabeth Bettler.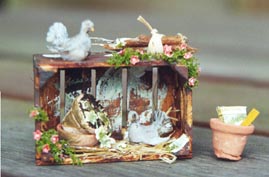 I bought the pigeons in their crate, this beautiful miniature is made by

Anja van den Doel. The little flowerpot was a gift by Anja, because it contains a little bag of daisy-seeds. The Dutch name for daisy is margriet and that's also my name!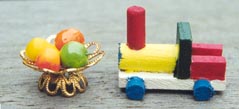 In March, Corrie and her daughter Marjolein paid me a visit. Corrie made me a fruitbasket with a pear, an apple, a peach and an orange. Marjolein made me a toy-train.