APRIL 2000 SWAP
In april the theme of the ENPEG-swap was Easter.
I made an Easter cake and a teapot with a sugarbowl and two cups and saucers for my swap partner Annelies.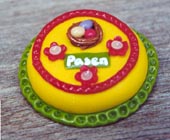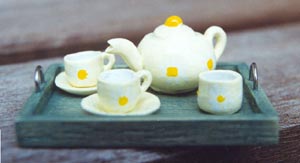 Annelies is very skilled in embroidery, knitting and bobbin lace (go and take a look on her website). So I was very fortunate to recieve from her a beautiful knitted little Easter bunny. He's only 3,5 cm tall!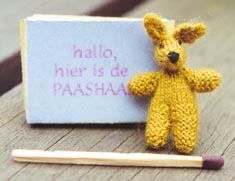 She also gave me one of her own books with patterns for more knitted toys.
The theme for the Mini-Praathoek swap was free , everyone could make what she want.
I made a children's bench filled with toys for Anneke.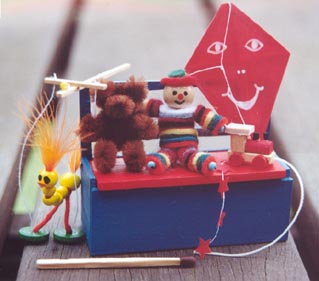 And Jolande made for me traditional Dutch toys.