MINIATURE PRESENTS
On this page I want to show you the wonderful miniature presents I got from friends.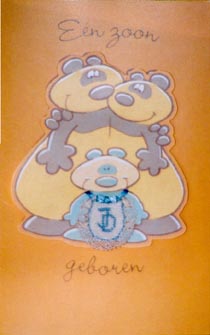 When my son Jasper was born my dear e-mail friend Liesbeth Hendriksen send this card with a self-made little bib on which she embroidered Jasper's initials J.D..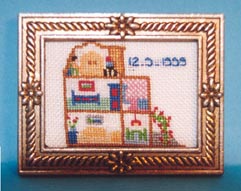 The pattern for this embroidery of the

ENPENPEG was made by Annelies de Kort. I got it when I bought my ENPENPEG. The house is 3 cm high.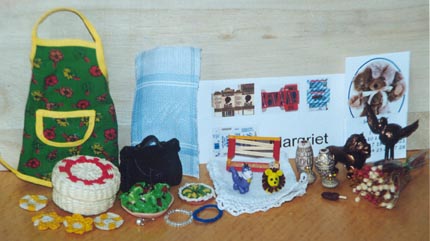 These are swaps and presents I got on the ENPEG-meeting day, the 12th of September 1999.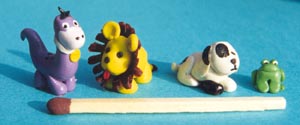 The little puppy-dog and frog (0.7 cm high!) are a gift from my friend Liesbeth on the ENPEG-meeting day and I swapped the dino and lion with Liesbeth.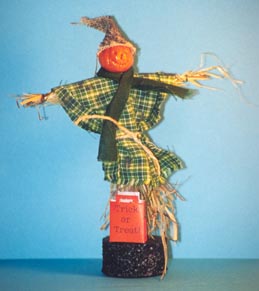 The Halloween scare-crow was a present from Els Greven, a fellow miniaturist who lives in the same town as I do.

This little weather-box (1.5 cm) was a present from Annelies de Kort when she paid me a visit in November 1999.

In December 1999 my friend Liesbeth send me these beautiful miniatures. The little FIMO-bear is 1.7 cm high.
Also in December I got this beautiful Christmas-quilt. It was a present from Marion van der Donk.